Joint Conferences on Algebra, Logic and Number Theory (2012, Czech Republic)
Open Problems [1]
12th Colloquiumfest on Algebra and Logic and 9th Polish, Slovak and Czech Conference on Number Theory
11–14 June 2012, Czech Republic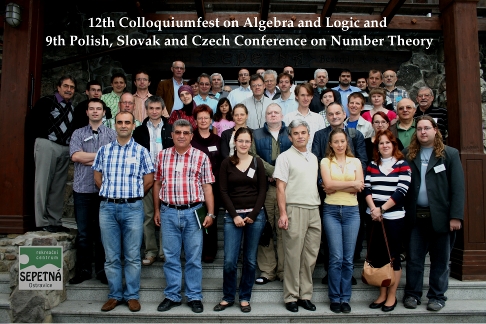 [2]
The Colloquiumfest is a small, (almost) annual low budget conference on algebra and logic that has been invented and held at the University of Saskatchewan, but also at the IHP in Paris and at the CUNY Graduate Center in New York. A list of past Colloquiumfest meetings can be found at the Valuation Theory Home Page http://math.usask.ca/fvk/Valth.html [3]. Topics of the 12th Colloquiumfest will come from valuation theory, real algebra, field arithmetic, algebraic geometry and model theory.
As a part of the conference there was Summer school on Number theory intended for students.
The conference was held in Hotel Sepetná, which is situated in Ostravice, a nice village in the Beskydy mountains, 30 km south of Ostrava.
Proceedings
The papers from the conference might be published — after review — in Communications in Mathematics [6], which is reviewed in Mathematical Reviews and Zentrallblatt.
Organized by
Department of Mathematics, Faculty of Sciences, University of Ostrava
Institute of Mathematics, Faculty of Mathematics, Physics and Chemistry, University of Silesia, Katowice
Department of Mathematics, Faculty of Sciences, Masaryk University, Brno
Institute of Mathematics, Slovak Academy of Sciences, Bratislava
Institute of Computer Science, Academy of Sciences of the Czech Republic, Prague
Department of Mathematics, Faculty of Sciences, University of Hradec Králové
Chair of the organizing committee
Organizing committee
Věra Ferdiánová
Ondřej Kolouch
Lukáš Novotný
Jan Štěpnička
Jan Šustek
Scientific committee
Jaroslav Hančl (Ostrava)
Radan Kučera (Brno)
Franz-Viktor Kuhlmann (Saskatchewan)
Ladislav Mišík (Ostrava)
Štefan Porubský (Praha)
Andrzej Sladek (Katowice)
Links:
[1] http://ntc.osu.cz/sites/default/files/NTC2012-Open_Problems.pdf
[2] http://ntc.osu.cz/sites/default/files/2012/NTC2012.jpg
[3] http://math.usask.ca/fvk/Valth.html
[4] http://ntc.osu.cz/2012/programme
[5] http://ntc.osu.cz/registration
[6] http://cm.osu.cz
[7] mailto:ntc@osu.cz